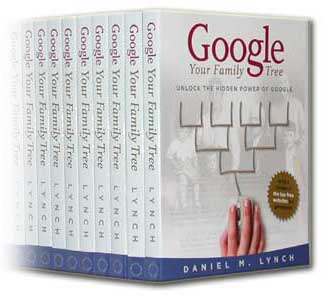 This Award Winning book written by Daniel M. Lynch has been described as the '
the most important technology book for genealogists written in more than a decade
,' and '
a must for every household, not merely for family history research, but for every family member that uses the Internet to glean information
.'
This ground-breaking and original book has paved the way for several imitations, but none are anywhere close to the depth and quality of the original. Lynch explains detailed techniques to not only help you achieve results, but also to help you increase your confidence in using the tools offered by Google.
A popular international speaker on family history and technology topics, Dan continues to receive high marks at each and every venue and has taught more than 20,000 family history enthusiasts worldwide how to use Google to further their research.
Order Your Copy of Google Your Family Tree Today
!
. . . . . . . . . . . . . . . . . . . . . . . . . . . . . .
"Easily the most important technology book for genealogists written in more than a decade. This is a must read for anyone using the Internet — for family history or any other reason!"

— Dan Taggart, Co-Founder, Ancestry.com, Inc.
"Dan Lynch has written an excellent new book called Google Your Family Tree. I have now had a chance to read it twice and must say that I am even more impressed with the second reading than I was with the first . . . I thought I was a Google expert, fully familiar with the search engine's operation. However, I learned a number of new tricks by reading Dan Lynch's book. I bet you will also. If you want to conduct more effective searches on Google, be it about genealogy or nearly any other topic, reading Google Your Family Tree will increase your expertise."

— Dick Eastman, Editor, Eastman's Online Genealogy Newsletter
"Dan does a remarkable job clearly detailing how to more effectively use Google to get the results you want when searching the Internet. Those who receive this book as a holiday gift will not only be smiling at Christmas time, but throughout the year as well." - more -

— Curt B. Witcher, MLS, FUGA, IGSF

Allen County Public Library, Historical Genealogy Department
"I think that this particular book, Google Your Family Tree, is going to be a genealogists bible for understanding how to use Google, this very powerful search engine!"

— DearMYRTLE, Host of DearMYRTLE's Family History HourListen to PodCast
"Whoever uses Google must get this book, whether you are a genealogist, a student with a homework assignment, or a cooking buff looking for a recipe . . . Google Your Family Tree is a must for every household, not merely for family history research, but for every family member that uses the Internet to glean information."

— Gary Mokotoff, Publisher, Avotaynu — The International Review of Jewish Genealogy

Founding President, International Association of Jewish Genealogical Societies (IAJGS)
"This is a fabulous book and it's going to become, I think, a standard in the industry. I just finished reading it today — it's incredible. It's up there with Elizabeth Shown Mills Evidence book . . . it will be in every major professional researcher's library and hopefully most of the beginners . . . I think it's a great book!"

— Mary Slawson, Professional Genealogist and Host of KSL Radio's "Relatively Speaking"
"I think that this book should be on the desk of every genealogist doing online research. With a book like this, dedicated to use by genealogists, I will be able to do my searches more efficiently and faster, and be able to investigate more avenues in my research. My conclusion is that this book is a vital addition to the library of beginning genealogy researchers, and is a great reference book for experienced researchers. It's a keeper for me, and would make a great Christmas gift for the genealogist in your life (or yourself - tell your friend, spouse or partner about it)."

— Randy Seaver, Author/Editor of the popular Genea-Musings Genealogy Blog
"If you thought you knew how to use Google, think again. Lynch's book will teach even experienced Google genealogists new tricks. It's a must-have for any family historian (and anyone else) who wants to find information online."

— Maureen Taylor, The Photo Detective
"Dan Lynch has done a splendid job of unlocking the power of Google, sometimes showing us how to use basic tools more effectively and other times by revealing lesser known featuers of Google. With Lynch's book, mastery of Google has finally become possible."

— Halvor Moorshead, Founder, Moorshead Magazines, Ltd.

Publishers of Internet Genealogy, Family Chronicle, and History Magazine
"This expertly-written manual can be considered the new bible of online research using Google features. Although written from the genealogy point of view, it isn't only for genealogists. I believe it will become the major resource for anyone researching anything on the Internet!"

— Schelly Talalay Dardashti, Author/Editor, Tracing the Tribe — The Jewish Genealogy Blog
"Friendly, non-technical language makes this book a good starting point for genealogy buffs who are Internet newbies (and vice versa); at the same time, few readers, librarians included, will walk away without picking up some tips to make their searches more productive. Public libraries should strongly consider purchasing."

— Sarah Johnson, Reviewer, The Tech Static

Reference/instruction librarian and math/computer science bibliographer at

Booth Library, Eastern Illinois University, in Charleston, IL.
"I have learned so much about Google while reading Dan's book, I only wish it had been available a few years ago while I was doing the family research for my own book!"

— Ben Edwards, Author, One April in Boston